Decorating Kantha
USES OF KANTHA
Kantha is a unique stitch embroidery technique famous for producing simple quilts. Kantha stitching uses embroidery thread or pearl cotton stitch.
In India, Kantha is mostly used by Bengali women who take old saris and make a beautiful design on them.
Some other uses of Kantha stitching are –
Blankets- In India Bengali women stack up old saris and stitch them, which makes blankets and they make simple yet beautiful designs on that using Kantha stitch.
In decorative uses in houses.
Making beautiful designs on clothes.
DECOR WITH KANTHA
Kantha stitch products have very beautiful designs for decorating houses. Kantha comes with seven different types and so many designs & patterns that provide the customer with a diversity of products.
Kantha stitched products are easy to use and wash, they can be washed in a machine and with hands. They can be dried in sunlight to remove silk curls.
some products that will make beautiful than ever
Want something to make your table delicate? Kantha stitch tablecloth will revive the vibe in your house. Enjoy tea-party, summer party, lunch, and dinner. Kantha stitched tablecloth comes with vintage print and bright color.
Kantha tablecloth is so smooth that it will go around the edges so smoothly and using it will take your table in the spotlight.
Kantha quilts have vibrant colors and they can be simply added to curtain clips, converting them into a beautiful curtain for your house. Kantha quilts can also be used as room dividers for kids, as kids love being surrounded with beautiful colors.
Kantha's seat covers with help making your vehicle cozy and warm. They are colorful, so they will help in giving the "wow" factor to your vehicle's interior.
Kantha jackets can help you in winters as they keep you warm.
Capes are an alternative to jackets for kids. Kids can wrap them around their shoulders, and it will keep them warm due to insulation.
Babies love bright colors so if you give them a colorful playmat to play on they will be happier than ever.
You can wrap your babies as they will love the colorful quilt and this will a warm place for the baby to rest in.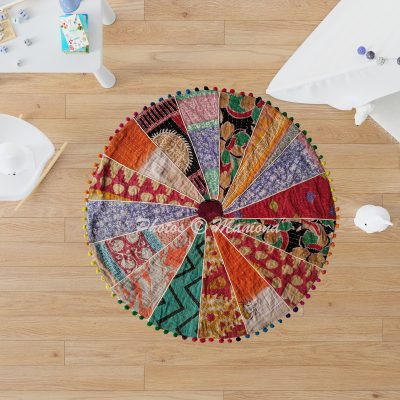 Heavy Kantha quilts are commonly used as rugs. These are perfect for a glamping experience. Kantha rugs are great for covering entire tent floors, and they are also comfortable to lie on and they can give a good, night sleep.
Do you have a dark corner in your house where nobody goes? If yes, get a Kantha quilt and spread it over a couch or cabinet to make it attractive. Kantha quilt will shed the brightness, or an over bright spot can be calmed with a light quilt as some Kantha present light and delicate print.
Kantha is perfect for decoration and adds the charm in your home because of the variety of designs and diversity of colors.