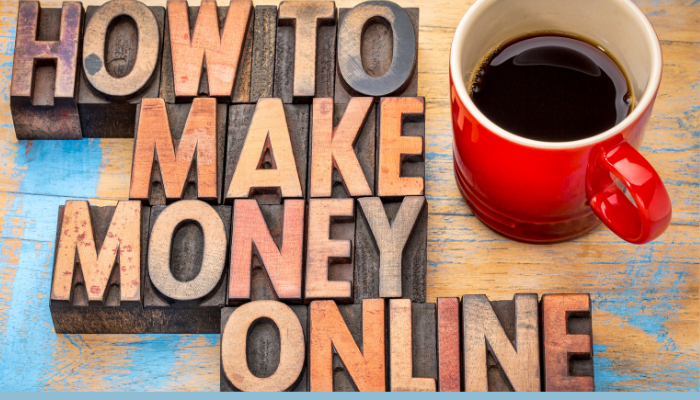 How to make money online in 2023
Top 15 ways to earn online
The year 2023 is going to be very interesting for those who want to earn money online as many of social media have started multiple ways for users to earn. Not only social media but there are lots of new ways have been discovered and people are already earning lakhs. Seeing the current market situation, it has now become a need for a person to have more than one incomes sources. There are many ways to make money online, Here in this article, we have clubbed:
Selling products or services online: This can include setting up an online store or using platforms like Amazon or Etsy to sell goods. If you don't want to store products, then Dropship could be the best option. There are a lot of services that you can sell – creating banners, digital marketing, social media marketing, and more. The platform like Fiver is in trend where you can sell your services and a lot of businesses nowadays are looking for these services.

Online marketing: This can include affiliate marketing, where you promote other people's products and earn a commission for each sale, or become an influencer and make money from sponsored posts.
With affiliate marketing, people are earning a lot, and its in trend so if you are good in writing then you can create your blog website and put affiliate links and start earning. Not only on your website you can use these affiliate links on Facebook, Instagram, and other social platforms as well. If anyone purchases these products by clicking your affiliate links you would be entitled to earn money.
Influencers are high in demand and because of their rise in demand, they are earning a lot. Influencers' role is to promote a product or brand and many big companies are using them to promote their brands. You can join the Insta Influencer program and earn thousands and more.
Sponsored posts – This is again a way to earn money by promoting other products on your account and if someone purchases the product you will get paid.
Freelancing: Be a freelancer. This can include offering services such as writing, graphic design, social media marketing, marketplace account handling, or programming on platforms like Upwork or Fiverr. Fiver has added or expanded its services a lot and people from across the world are using fiver to find freelancers. You will get a lot of work there and once your rating improves, it would be easier to get a lot of work.
Online tutoring: This can include teaching a specific skill, such as a language, dance, or instrument, to students over the internet. There are lot of people who would love to learn various skills online and this can help you to earn a lot. Online tutoring has even more increased during Covid as many people even the school/colleges also started online classes so very good opportunity.
Investing: Investing is a very good option, this will also help to make your future secure. This can include buying stocks, mutual funds, cryptocurrency, or other assets online and making money through price appreciation or dividends.
Online Surveys: This can include signing up for online survey websites that pay you in cash or gift cards for completing surveys. Though the payment from online surveys are very less but initially you can try and see if works for you.
Podcasting: Podcasting has gained popularity recently and many people are using this to earn online. Creating and hosting a podcast can be a great way to build an audience and monetize through sponsorships or advertising.
Online Courses: Creating and selling online courses can be a great way to share your expertise and make money at the same time. Udemy is quite popular where you can earn lot of things online. There are people who have uploaded their courses. If you are master of any subjects then you are a king here. You can create short videos for your audience and start earning when someone buy your course.
Blogging: Starting a blog can be a great way to build an audience and monetize through advertising, affiliate marketing, sponsored posts, and more. Search topics from google trends and find out the trendy and hot topics from here and stat writing on your blog website. Once you start getting traffic on your website, you can put affiliates and start earning.
Virtual Assistant: As a virtual assistant, you can offer services such as scheduling, email management, and research to clients remotely. Lot of companies operate from their home and they may not have proper office space. Side by side in order to run a business they are looking for virtual assistants. Also, companies are looking for people who can work odd hours so here is an opportunity for you to be their virtual assistant.
Stock or real estate investing: Investing in stocks or real estate can be done online and has the potential to generate passive income.
Dropshipping: Starting an e-commerce store that sells products without having to keep inventory by using the drop shipping method. Dropshipping is very easy and you don't have to keep stock or inventory and you don't even need a warehouse. You would just be using 3 party stock, uploading it on your website or marketplace & start selling. Once sold, the supplier would be shipping out the products to the customer. Isn't it easy?
Sell digital products: This can include e-books, printables, courses, or other digital products that can be sold through your own website or on platforms like Gumroad or Sellfy.
Social media management: Social media is now on the boom. Many in fact every company is now promoting their products through social media like Facebook or Instagram. If you are a master in social media then here is a big opportunity for you to handle their social accounts.
Website design and development: If you have experience in web design and development, you can offer your services to businesses or individuals who need a website. Again many overseas companies are hiring web developers to create websites for them and this could be a very good opportunity for you to show your skills.
It's important to note that making money online requires effort, dedication, and consistency just like offline opportunities. Not all online ways of making money will be a good fit for everyone, and some may require specific skills or certifications. So, based on your skills and availability filter the options form above shared and start earning online.